Product Description
1. Ficus  is a kind of tree plant of the genus Ficus in the Moraceae family, which is native to tropical Asia.
2. Its tree shape is quite unique, and the branches and leaves on the tree are also quite dense, which leads to its huge crown.
3. In addition, the growth height of banyan tree can reach 30 meters, and its roots and branches are tied together, which will form a dense forest.
Nursery
Nohen Garden located in ZHANGZHOU, FUJIAN, CHINA.We sell all kinds of ficus to Holland, Dubai, Korea, Saudi Arabia,Europe, America, Southeast Asia, India, Iran, etc.We have gained good reputation from clients at home and abroad with high quality, competitive price and integration.
Package & Loading
Pot: plastic pot or plastic bag
Medium: cocopeat or soil
Package: by wooden case, or loaded into container directly
Prepare time: two weeks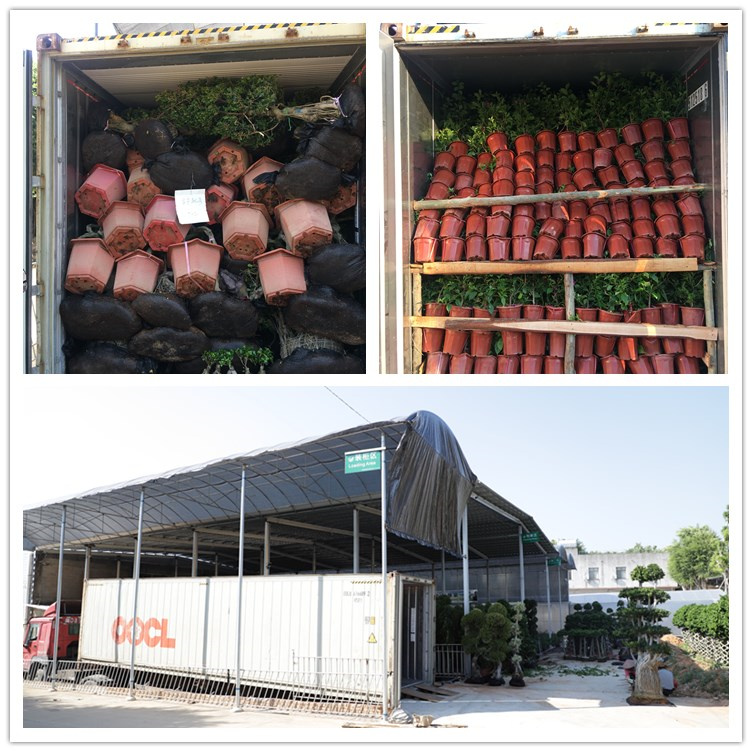 Exhibition
Certificate
Team
FAQ
1.Can you change the plants pots when you receive the plants ? 
Because the plants are transported in the reefer container for a long time, the vitality of the plants is relatively weak, you can not change the pots immediately when you received plants.Changing pots will cause soil loose, and the roots are injured, reduce plants vitality. You can change the pots until the plants recover in good conditions.
2.How to deal with red spider when ficus ?
The Red Spider is one of the most common ficus pests. Wind, rain, water, crawling animals will carry and transfer to the plant, generally spread from the bottom to up, gathered on the back of the leaf hazards.Control method: The damage of red Spider is most severe from May to June every year.When it is found, It should be sprayed with some medicine, until  completely eliminated.
3.Why do the ficus will grow air root?
Ficus is native to the tropics. Because it is often soaked in the rain in the rainy season, in order to prevent the root from dying of hypoxia, it grows air roots.